Adventure, relaxation and breathtaking scenery await you on this tropical archipelago, featuring tranquil beaches, wild jungles and mystical ancient monuments.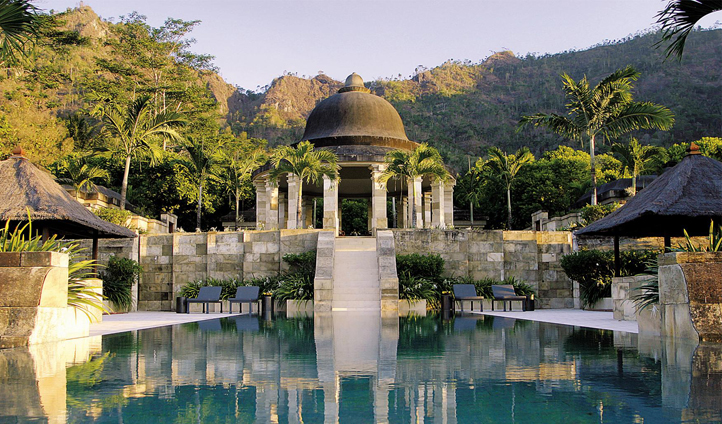 Too much choice we hear you shout? Well we have narrowed them down to our favourite few and curated a great island hopping adventure.
It's hard not to fall in love with Indonesia. Made up of 17,000 islands it's no surprise that each one offers a wealth of incredible experiences from wandering around the colourful streets of Ubud, venturing into the quieter islands of Lombok and Java to be mystified by ninth-century Buddhist temples, and sailing through a tropical archipelago to hidden beaches…
We've always been drawn to archipelagos. Tiny jewel-like islands, strewn across vast expanses of ocean, they invite endless exploration and discovery. But nowhere captures our imagination more than Indonesia. Far from the reserve of honeymooners, a luxury holiday in Indonesia has a truly transformative power as you watch the sunrise over centuries-old volcanoes and set over ever-changing oceans.
Visa requirements
Visa not needed for EU, US, UK, AUD, CA citizens. Everyone else need a visa.
With heavenly tropical beaches, pulsating cities, breathtaking natural landscapes and a fusion of fascinating cultures packed into more than 18,000 islands, the Republic of Indonesia is a truly diverse destination. Explore Indonesia's cultural heartland in Java, traverse dense jungle in Sumatra and relax on a beautiful palm-lined beach in Bali. Sail around this magnificent archipelago and discover the wealth of culture in each region. See magnificent Islamic mosques, Hindu temples and sultans' palaces or enjoy a unique gong-like Indonesian gamelan and a shadow puppet performance.
For a tropical beach paradise, visit the tiny island of Bali in Indonesia's central south. Swim in the warm waters or surf the rolling breaks on Bali's beautiful beaches. Rejuvenate your senses at a beachfront wellness center with a spa or massage treatment. Hike along mountain ridges to Mount Batur for breathtaking volcano views. Wander through Ubud Monkey Forest to see the rainforest's scenic greenery, sacred stone carvings, ancient temples and playful monkeys. See magnificent Hindu temples amid lush rice terraces and water gardens, such as Gunung Kawi, Saraswati and Klungung.
Indonesia is a world-famous scuba diving destination. Explore brilliantly varied hues of the reefs and see tropical underwater life at Bunaken, Wakatobi and the Gili Islands. For the archipelago's best surf spots, charter a private boat tour across the Mentawai Islands, off Sumatra's west coast.
Explore Java and the capital city of Jakarta, a bustling metropolis, filled with fantastic shopping, arts institutions and cultural treasures. See traditional puppet and dance shows in Yogyakarta, explore the ancient Buddhist monument at Borobudur and admire the stunning spires of the Prambanan Hindu temples.
Try regional Indonesian cuisine. Sample delicious gado-gado, seasonal vegetables with peanut sauce, or traditional nasi goreng fried rice. Street vendors (warung) and eating houses (rumah makan) sell simple, authentic meals and drinks. Indonesian etiquette requires eating with only your right hand if utensils are unavailable.
Over time, deep and rich cultures have evolved, from the mysteries of the spiritual Balinese to the utterly non-Western belief system of the Asmat people of Papua.