Experience "the Land of the Rising Sun," where tradition meets modernity. The skyline features high-rise buildings, ancient temples and snow-capped mountains.
What we love about Japan is its diversity and unwavering ability to surprise. We love the fact that you can ski through thick powder in Niseko before relaxing on tranquil beaches down in Ishigaki. But we also love the way it balances futuristic cities with a rich, centuries-old culture. So whether you want culture and downhill, cuisine and off-the-beaten-track, our tailor-made holidays in Japan have it all.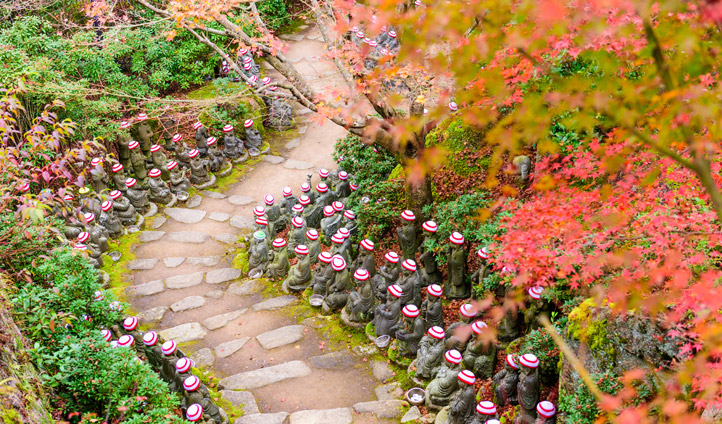 Explore ancient Zen gardens at Ritsurin Park in Takamatsu. Discover Japan's charming agricultural villages, set in a lush forested landscape. Find breathtakingly beautiful castles dotted across the countryside. Try regional cuisine and delicious sashimi, Japanese-style raw seafood.
On the surface, Japan appears exceedingly modern, but travelling around it offers numerous opportunities to connect with the country's traditional culture. Spend the night in a ryokan (traditional Japanese inn), sleeping on futons and tatami mats, and padding through well-worn wooden halls to the bathhouse (or go one step further and sleep in an old farmhouse). Chant with monks or learn how to whisk bitter matcha (powdered green tea) into a froth. From the splendour of a Kyoto geisha dance to the spare beauty of a Zen rock garden, Japan has the power to enthral even the most jaded traveller.
The neon-lit streetscapes of Japan's cities look like sci-fi film sets, even though many of them are decades old. Meanwhile, cities such as Tokyo and Osaka have been adding new architectural wonders that redefine what buildings – and cities – should look like. There's an indelible buzz to these urban centres, with their vibrant street life, 24-hour drinking and dining scenes, and creative hubs that turn out fashion and pop culture trends consumed the world over. Travel is always smooth and efficient, whether you're using the subway to get around or the shinkansen(bullet trains) to go from one city to the next. Try regional cuisine and delicious sashimi, Japanese-style raw seafood. Let's discover the treasures of travel. 
Visa requirements
Not needed for EU, US, UK, CA, AUS citizens. Everyone else need a visa.
Tokyo
, the country's capital, is a contemporary city filled with bustling shopping districts, fantastic restaurants and a lively nightlife. Visit Tokyo's
Sumida
district to find a sumo stadium, fascinating museums and the Sumida River. Experience hanami (cherry blossom viewings) in April and a fireworks festival in July. Explore
Harajuku
to see an ancient shrine and wild fashions of the Harajuku youth on Sundays. Enjoy a fun-filled night out in
Roppongi
.
The majestic snow-capped peak of Mount Fuji rises beyond Tokyo's skyscrapers. Visit Fuji-Hakone-Izu National Park to see dense mountainous forest, lakes and waterfalls. Climb the summit of the revered mountain in June or July. For more stunning mountain ranges, visit the northern island of Hokkaido and the Japan Alps on Honshu. In Honshu's western region, find the stunning cities of Osaka, Kobe, Kyoto and Nara. Head south to Kyushu, Japan's third-largest island, home to hot spring resorts and the country's most active volcano.]