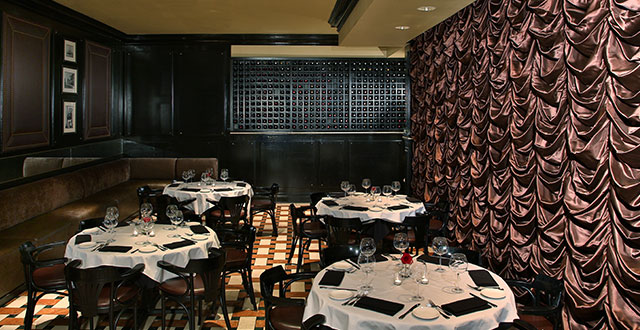 Top Dallas Power Lunch Spots
A power lunch is just a fancy way of describing a business lunch between two or more people who like some tough negotiations lightly garnished on their afternoon meal. I know I do… However, the atmosphere needs to be just right if you're going to talk business. It has to have delicious food and it should probably offer a good selection of drinks to suit your clients' tastes. The seating should be comfortable for pencil skirts, the ambiance should be welcoming for making meetings while on your meeting, and the service should be impeccable. Nothing worse than a crap martini. Throw in a wait staff that knows when to bring your food, when to clear away plates, and when to leave you alone so the decision making can happen. Where should one go when a diner won't cut it, Four Seasons is too obvious, and any chophouse worth its salt will be jam-packed with cranky tourists come lunch time?
Close the deal at one or all of these power lunch restaurants in Dallas. You may just run into me. If so, let's talk…business.
"I like to have a martini, Two at the very most. After three I'm under the table, after four I'm under my host." – Dorothy Parker
1. Kenny's Wood Fired Grill
You'll find Kenny's Wood Fired Grill on Belt Line Road just west of the Dallas North Tollway. Like the name says, Kenny's menu list is all about grilling over an open wood flame because a lot of the smoky smell from the wood will get trapped in the meat. You can get grilled chicken or grilled salmon, a steak sandwich on a hoagie loaf, or some St. Louis-style ribs. Either way, you're tastebuds and your face will be smiling at this power lunch. The food at Kenny's also comes in at a very reasonable price, so it's a good option for power lunchers who don't have the corporate card.
2. Sevy's Grill
Sevy's Grill on Preston Road isn't so much a power lunch option as it is an institution. Businessmen and women come from miles around to eat lunch and talk business at the same time, and it's definitely a comfortable place to discuss work thanks to the warm browns and wood tones that fill the dining area from top to bottom. There are plenty of reasons to enjoy the menu, thanks to high-quality options like a grilled shrimp and quinoa salad, deviled eggs and succulent hamburgers topped with bacon, cheddar, and a housemade mustard sauce. Happy hour happens to be The place to network for those looking to expand there demographic.
3. R+D Kitchen
The R+D Kitchen along Wentworth Drive is part of a small national chain of high-end restaurants, and they even have a dress code to keep things from getting too casual. Who doesn't love a sharp dressed man? That's perfect for a business meeting since your office dress code is likely to be stricter. R+D Kitchen lives up to the "research and development" in its name by serving new American cuisine, a style that includes European techniques and Asian traditions and fuses them with American innovations. That's why the menu includes chicken meatballs, sushi and sashimi, and tabbouleh as a side dish. Dive in executively.
4. Fearing's Restaurant
If you're heading out for a power lunch and you really want to impress the other person, go to Fearing's Restaurant in the Ritz-Carlton Hotel. No one puts on a show better than Dean Fearing. His namesake restaurant at the Ritz-Carlton Dallas is a perfect personification of the celebrity chef's yin-yang: It's fine dining yet relaxed, glam yet homey. If you want to impress your lunch guest, ask for a table in the light-strewn Gallery room with its white linen style dining. Want a show? Sit in Dean's Kitchen under rawhide chandeliers as chefs sauté and flambé nearby. Regardless of where you sit, the food experience will be the same: big and bold yet remarkably refined. Something you want to get across to your lunch conquest.
Fearing's specialty is incorporating Southwestern ingredients into new and interesting dishes, such as a cactus pear glaze and antelope meat. Barbecued shrimp taco is paired with mango/pickled red onion salad and smoky citrus vinaigrette. Short ribs are braised in Dr Pepper and served with crispy tobacco onions. A beautiful cut of halibut is glazed with blood orange and served with a ragout of wild mushrooms, fennel confit, and brussels sprouts leaves. What is perhaps the best banana pudding in Dallas is accompanied by warm beignets topped with bananas foster sauce. You get the picture. I'd get that one to go… This isn't wimpy food nor is it unpolished. Just unforgettable. Like your presentation should be…or your lunch date.
The right restaurant can make a big difference in how business discussions go during a power lunch. You need a quiet atmosphere, pleasant colors, a formal or semi-formal dress code, and (naturally) some good food.
5. Ocean Prime
Though the Rat Pack-inspired décor veers dangerously close to theme park territory, there's no denying Ocean Prime's handsomely modern supper club allure or its delicious steakhouse fare are some of the city's finest. Points for also being one of the few high-end steakhouses open for lunch in a city obsessed with big beef. All the classics are covered here—filet mignon, jumbo lump crab cakes, shrimp cocktail, lobster bisque— and they're ALL stellar. More inspired selections include truffled deviled eggs, Sonoma goat cheese ravioli, and the Dallas roll – Shrimp Tempura, Crab Salad, Mango Sauce, Sriracha, Soy Paper. The Happy Hour in the Lounge is replete with live music. And if you're watching your cholesterol, Ocean Prime's seafood is top-notch as well. In fact, the restaurant serves one of my favorite salads in Dallas: its shellfish Cobb salad, littered with shrimp, lobster, and crab, all tossed in a creamy lemon dressing. If you time it right, you can have business lunch into cocktails into dinner. Make a night of it.
6. Abacus – Jasper's
Executives from nearby Legacy Park used to make this popular Plano restaurant almost a second home —­for good reason. Now that it's closed, you can experience the magic of Jasper's at Dallas and even DFW Airport! They continue to focus on outstanding food and impeccable service. The menu is a true work of imagination — a unique fusion of flavors inspired by the Mediterranean, the American Southwest and the Pacific Rim. Seeking wild game? Try a small plate of Roasted Bandera Texas Quail, paired with Warm Blue Cheese Potato Salad and Tamarind BBQ Sauce. And you can never go wrong with the Hardwood Grilled Cervena Venison, whose mouthwatering sides include Street Style Elotes and Cotija cheese. Abacus has added another dimension of dining for your enjoyment, the best Happy Hour in town with outstanding "Bar Bites" alongside an extensive craft cocktail menu created by mixologist Jordan Gantenbein. Executive Chef/Culinary Director Chris Patrick and his team use fresh, local ingredients, prepared to perfection and served with style in an elegant space.
When you choose to dine at Abacus, it is a sophisticated, contemporary environment with an open kitchen and relaxed ambiance. It's all served with polish and panache in a dining room handsome enough to impress lunch companions but not so much to feel stuffy. If Abacus is the flagship for anything, it's for epitomizing relaxed, fine dining.
7. Tei-An
Restaurants have come and gone in the trendy One Arts Plaza development. But chef/owner Teiichi "Teach" Sakurai's noodle house has been the lone constant, a tranquil spot of urbane civility amid the hustle and bustle of downtown life. Sakurai makes his buckwheat soba noodles daily. EVERY DAY!!! Thin and nutty, they are served both hot and cold amid heady broths featuring curry, duck, fried tofu, and poached egg. If you're a noodle novice, try the cold soba with its variety of dipping sauces including black sesame, soy, and pecan and walnut. Tei-An also serves some of the best sushi in Dallas. Rather than bombard diners with heavy-handed sushi rolls, Sakurai opts for a more delicate approach serving pressed sushi where the rice is molded into small cubes and topped with the freshest fish around. The sashimi salad is a lunchtime wonder showcasing the supple fish amid wide ribbons of white seaweed. The showstoping must-try: omakase. What's better than 'I'll leave it up to you"? A wide variety of sakes are served warm, room temp, and iced. Add in the glorious rooftop bar, and you're winning this business. I know you've won mine…
8. Rise No.1
This one is for the Francophiles. Co-owner Hedda Gioia Dowd's Dallas bistro is a favorite with not only the well coiffed ladies-who-lunch set but also with anyone longing for a little Left Bank amour. The Rise No. 1 menu is dominated by swoon-worthy soufflés: both light and airy, yet moist and dense all at once. Savory options include creamed spinach, truffle-infused mushroom, Southwest chicken (not particularly French but still tasty), and, but of course, escargot. Sweet favorites include chocolate, grand marnier, and apricot soufflés. Sure, you can order entrées if you prefer. The salad nicoise is quite nice, traditionally French with its mix of seared ahi tuna, haricot vert, olives, capers, and roasted potatoes. And the mini baguette sandwiches with ham, Gruyere, cornichons, and sweet butter are perfect bistro fare. But at a place named Rise, how can you not order a soufflé? You can't. Order the Grand Marnier souffle and let's get it to go…
9. The Capital Grille
With The Capital Grille's in house butcher you can get the steak of your dreams, literally. The Capital Grille specializes in dry aged steaks that are aged in house for 18-24 days, and even longer upon request. But unlike other high end Uptown steakhouses, The Capital Grille takes prides in providing the best value for specialty and dry aged steaks in town.  Their 16 oz bone in filet, 40 oz. prime tomahawk ribeye and 20 oz bone in wagyu New York strip all come under $100.  For the seafood lovers out there, the grand plateau is a sight to see.  Oysters, lobster, and shrimp and jumbo lump crab decorate this double decker seafood platter that I dare you to finish. Or watch me finish it!
With a private club atmosphere, accented by rich mahogany wood, we get the cozy home feel. Carefully placed throughout the restaurant, you'll see classic art displayed of prominent Dallas philanthropists that are always a conversation starter.  And conversation is what we want! Beautiful lighting shines from the chandeliers, live action on display from the exhibition kitchen, and clocks of all the major financial capitals of the world all add to the experience. The experience of business.
10. Dakota's Restaurant
The slow descent in a glass elevator is the first indication that the experience at Dakota's is going to be unique. Sit back and take in the many decorative nuances that make Dakota's still one of the most romantic spots in Dallas. The subterranean restaurant sits 18 feet below street level, with a layout that includes a recessed patio surrounded by cascading multi-level waterfalls, a fire pit, and a black granite patio bar . Inside, French doors let in natural light, while art-deco accents and bistro-style furniture create an elegant, dreamy setting. The menu showcases premium steak and seafood, with an extensive selection of dry-aged Midwestern corn-fed USDA Prime steaks as well as premium meats including Berkshire pork, Colorado Lamb, and Scottish Salmon.
Quite possibly the most romantic setting for any business deal I can think of. Let's seal the deal…
I trust this has been an informative jaunt through some of my favorite places. If you see me there, send a Hendrick's Gin Martini shaken 'til the ice breaks with a lemon twist.
If you care to show your appreciation sans gin; most places also have Gift Cards for purchase… hello@thetravelgal.nl
xx C