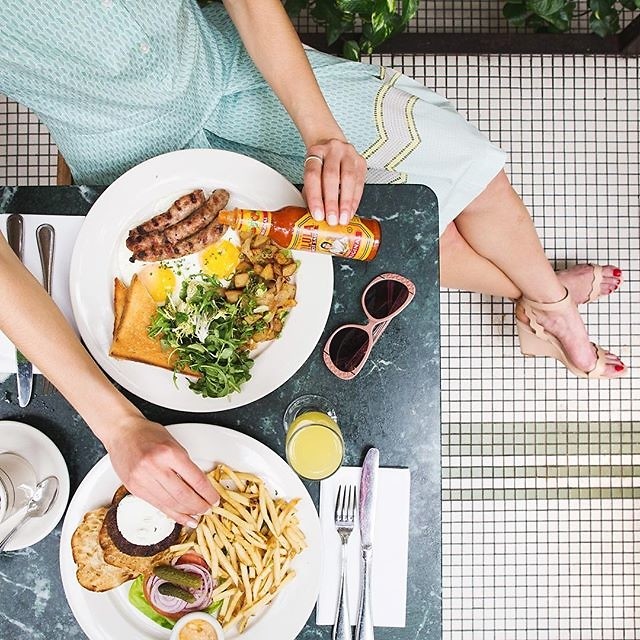 Rooftop Brunches: NYC
Rooftops AND brunch in the same sentence? I said what I said! The combination of your two favorite weekend pastimes does exist, and I have just the guide for anyone interested in exploring the best spots in NYC to be caught indulging in rooftop shenanigans. Everything *wink wink* always taste better 10 stories up, anyway.  Rooftop bar + Bloody Mary's + Brunch + Talent = four for the price of one! Enjoy all of the above at a rooftop brunch in NYC.
I love rooftop bars, I love Bloody Marys and we know we ALL love brunch in NYC—get three for the price of one at the best rooftop brunches NYC has to offer. From hotel terraces to beer-bardecks, New York City has got a sky-high setting for all of our brunch needs.
The dreamy, overgrown rooftop bar, which sits atop a Chelsea warehouse that operates as the "McKittrick Hotel" for the wildly popular interactive theater performance Sleep No More, boasts a variety of stations for its $35 weekend buffet brunch: A hot station for frittata, suckling pig – I'm drooling, and fried chicken; a chilled station equipped with shrimp cocktail, beet salad and heirloom tomatoes; and a panier offering cinnamon rolls and chocolatines. If you requirer more chocolate…
More Info * Sat, Sun 11am-4pm *  Book Online 
Outdoor seats abound at this darling Williamsburg nouveau bistro, and while brunching on the sidewalk or in a garden has its charm, I have to admit that everything just tastes better on a rooftop. And I mean everything… Pair a vodka-cucumber cocktail with Francophilic fare like the French-rolled omelette packed with truffled goat cheese and asparagus, or Tartine's croque-monsieur on house-baked brioche. Indulge in a decadent brunch of crispy duck confit, spicy lamb burger, omelette dujour, and more while relaxing in their serene and verdant rooftop lounge.
More Info * Sat, Sun 10:30am-4pm * Book Online 
At the glass-encased lounge and rooftop terrace roof of this three-story megarestaurant in West Village. The equally chic and cozy lounge has all the hallmarks of  romcom meet cute. Enjoy classic brunch staples (croque madame, steak and eggs) or Asian-inflected seafood plates like king-crab hand rolls, caviar-capped truffle sashimi and wasabi-spiked toro tartare. I personally like to delve into their virally infamous "Hit Me" layered cake.  Something I'm rater into if truth be told.
More Info * Sat, Sun 11am-3:30pm * Book Online
Located just around the corner from Herald Square, the rooftop and lounge at Monarch offers expansive views of all of midtown, including a direct shot at the Empire State. With a cocktail and brunch menu to (almost) rival the stunning views, the overall ambiance at Monarch Rooftop and Lounge simply can't be beat.
Monarch Rooftop and Lounge, 71 W 35th St
Dine alfresco at this three story Mexican eatery on Columbia Street's restaurant row, where diners clamor for a seat on the rooftop patio (open year-round!) for inspiring views of the Manhattan skyline and the glittering, accidental beauty of cargo-loaders below. No degree of hangover stands a chance against hearty morning fare like chilaquiles con huevos with jalapeño home fries, and pan Mexicana relleno—a South of the Border take on French toast that's stuffed with queso fresco and topped with sautéed apples and almonds.
More Info * Sat, Sun 11am-2:30pm * Rooftop – First come. First served. 
Located atop Stage 48, the modern rooftop restaurant offers a wide variety of classic brunch and spicy Mexican-inspired dishes, lounge area and endless cityscape overlooking the Big Apple. That's what you get when you stop by Cantina Rooftop. Located in the Hell's Kitchen close to Hudson River and nearby you can find a numerous attractions, stores, museums and galleries. Fantastic place to visit when searching for "rooftop brunch NYC" and one of the best rooftop brunches in NYC. Pick from plates like cinnamon- and sugar-dusted ricotta fritters, scrambled egg-stuffed breakfast enchiladas and a Pat LaFrieda burger topped with avocado and chipotle aioli.
More Info * Sat, Sun 11:30am-3:30pm *  Book Online 
It'll take you a while to get into this massive rooftop bar—not because of the door policy, but because of its popularity. Take in views of the Empire State, MetLife and Chrysler Buildings under shady umbrellas for sunny days, and near space heaters for chilly nights. One of the biggest and most well known rooftops in NYC also has one of the most talked about rooftop brunches. At 230 Fifth, every Saturday and Sunday means it's time for the large rooftop brunch buffet. For $29 one can indulge in classic brunch dishes (including a grill station during summer), while enjoying great views of the Manhattan skyline and Empire State Building. And in winter, gather in pop-up igloos to protect your party outfit from the elements.
More Info * Sat, Sun 10am-4pm
This babe here is the typical American bar & grill. Located at the top of the Marriott Marquis!  The View is known for their great burgers and relaxing casual atmosphere, and of course THE VIEW!. It's a great choice for both a little more special date or simply a great night out with your family and friends. And even more so for their Sunday Mimosa Brunch. Be sure to make your reservation ahead, as it usually get's quite busy.
More Info * Sun 10:00am – 1:15pm * Book Online
A fabulous Italian menu with a variety of fresh and seasonal pastas and antipastas. Most from their rooftop garden and Upstate farm! All of their wonderful traditional dishes are best served with fine quality wine at affordable and reasonable price. Casual atmosphere, great desserts and a view to take your breath away. So New Yorkish. Located in the West Village of Downtown Manhattan, and when searching for "brunch new york rooftop" you will most probably bump in to Rosemary's.And for added deliciousness stop by Rosemary's Pizza to get some yummy to go!
More Info * Sat, Sun 10am-12am * Book Online 
During warm months on the 15th floor of the Hotel Indigo Lower East Side, Mr. Purple's brunch revelry sprawls across two terraces sporting a swimming pool and 6,000 square feet of panoramic outdoor space. Indulge in brunch requisites like goat cheese-filled omelettes and smoked salmon-topped bagels, and toast rosé mimosas to weekend vibes amidst unobstructed cityscape views. Plus there's not far to go to continue your fun…
More Info * Sat, Sun 11am-4pm
This spacious Williamsburg Rooftop Bar serves up delicious German influenced nosh along with a long list of German beers on tap, and ultra-affordable cocktails at $9. Brunch your heart out on all of the wurst, pretzel, and cheese combinations that you can dream of, and even stop by for their post-brunch happy hour for $5 fireball shots and currywurst. Fun fact: Saturday and Sundays play in The BackYard where there is Ladderball, Super sized beer pong, Corn Hole and Mega Jenga. Or actually play some soccer in The Backyard.  All of this across two floors with gorgeous Manhattan views.
More info * Sat, Sun 11am – 4am
Located in the heart of Times Square at the top of the luxury boutique Sanctuary Hotel, Haven Rooftop is the lavish midtown 'haven' for everything from cocktails, panoramic views, live DJs, and delicious cuisine. Go for the breathtaking views of midtown and unmatched ambiance, and stay for the cocktails and extensive menu of brunch bites among other tasty morsels. The best highlight of the setting is the copper spire and gargoyles of St. Mary the Virgin's church right next door; brunch here offers a view of the blended history of the city, from a height seldom seen. With a prix fixe option for $29, with bottomless mimosas, sangria, or Bloody Marys for $20 more I think it's an experience we should all have.
More Info * Sat, Sun 11am-3pm 
For the (extra) late risers, Moi,  who probably spent too much of the previous night partying away at any of these top Manhattan rooftop bars to wake up in time for brunch, don't freak out. Bar 54's rooftop lounge has you covered! Although the lounge technically opens at 4 PM (which is a totally reasonable hour to be caught brunching, in my opinion), it's also the highest rooftop lounge in all of Manhattan, which makes for altogether unsurpassable views of the city – and simply couldn't be left off of our list. So grab a specialty cocktail and bite from their shared plates while simultaneously soaking up one of the most breathtaking river-to-river views of the Chrysler Building and lower Manhattan.
More Info * Sat, Sun 4pm – 2am
Thirty stories high above The Kimberly Hotel in Midtown, this rooftop lounge serves it up. Whether it's their schmoozy cocktails ,one of such is "topped with the French nectar of love", or long list of brunch classics a.k.a. there are at least six different egg options, there are sweets, and savories glare! You won't be disappointed with an afternoon spent 'upstairs'. And when we're finished – downstairs awaits.
More Info * Sat, Sun 12pm-2am 
So that's my list! There is something for everyone and I'm sure some fun to be had for all. Thinking of making it  #threeday in NYC? Check All The Rooms and see what catches your fancy. Should you require  a galpal for these adventures – You know where to find me! Let's get lost…