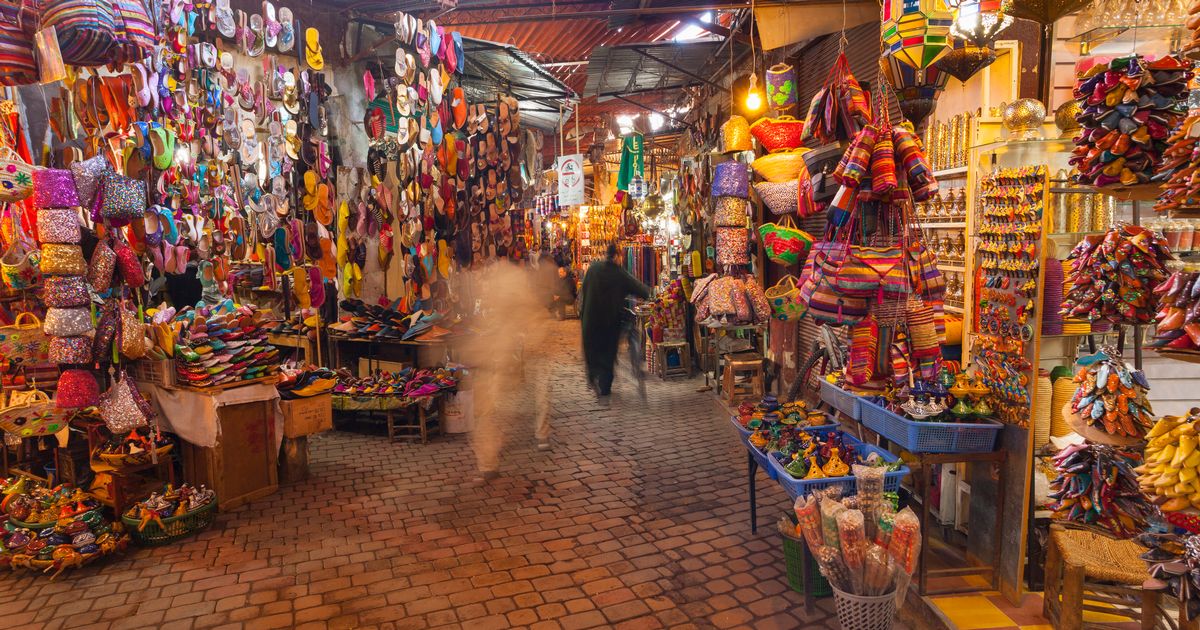 What to Buy in Morocco (And Where To Find It)
Morocco is awash with many sights and sounds. The gateway to Africa and it's treasures opens up to a country dizzying diversity. Here we'll find epic mountain ranges, ancient cities, sweeping dessert, but the standout stars are the artisanal crafts. One cold wander for hours in the many markets. Here are just a few places to find such treasures.
Rugs
The brown-and-white, diamond-pattern Moroccan beni ouarain may be the the most popular, but flat-weave rugs in all patterns, shapes, and sizes— antique and brand new—are easily found all over the medinas of this country, especially those of Fez and Marrakech. In traditional Berber weaves, lozenge patterns play a big role in the Zemmour tribal designs, while the rugs of the Atlas Mountain tribes tend to more zig-zag, larger-format patterns. Once woven traditionally from camel hair and wool; now cotton and even synthetics have found their way in. It's always good to have a lookieloo  trip first, then go back a second time to actually buy. And YES, you should barter.
Where to buy them
Two addresses in Marrakech should have what you need: Ben Rahal (28 Rue de la Liberte; www.benrahalart.com), a gallery-style space in the chic Gueliz neighborhood. It has some of the finest antique rugs in town, and a wide selection of fashionable beni ouarains. Prices more along the medina lines at Mustapha Blaoui's three-story emporium of design, Tresors des Nomades (142-144 Bab Doukkala), where Blaoui himself presides over piles of flat weaves in deep reds and mint greens, pomegranate and rich saffron.
Embroidery
The general rule is cotton thread for bed (and table linens. It rhymes); silk thread for djellabas, tunics, and caftans (I LOVE these!). The former tend to be simple, geometric designs. The cross-hatches and parallel lines edging high-quality cotton, and 100 percent linen tablecloths, napkins, and bed sheets. The latter are dense, textural borders, in black (the most traditional) and deliciously rich vibrant dyes. If you think you're not a bright, Majorelle-blue kind of person? Wait till you see it in person.
Where to buy it
Do some real good via medina retail therapy at Al Kawtar (52 Rue Laksour), a collective where physically disabled and disadvantaged women are trained in embroidery techniques. Their children's clothing is particularly adorable, and the heavy linen napkins exquisitely done. At La Maison Bahira, in the Souk Cherifa (15 Souk Cherifa; Sidi Abdelaziz), traditional patterns are updated in a line of sleek, totally modern home accessories. Throws, pillows, even bath towels come in neutrals with black, red, and white stitching.
Lanterns
Those hanging pendants, sconces, and floor lamps you see at every riad in every major town cut in patterns that cast dazzling little light shows across tadelakt (plaster)-coated walls…Can be brought home too! The souks abound with craftspeople and glass workers who fashion them from single sheets of oxidized iron, brass, or chrome. Other styles are sectioned pendant lights, fit with panes of richly colored glass and strung on long chains. You'll never want something from Pier One again.
Where to buy them
If extremely high-end and extremely beautiful craftsmanship are worth your buck, then Yahya Creation (yahya-group.com; 61 Rue de Yougoslavie) in Gueliz is a must. Bronze, nickel, and silver are worked incredibly meticulously and lovingly into contemporary takes on old-school designs by Yahya Rouach and his team. For even better value, the Sidi El Yamani section of the medina, just inside the Bab Laksour gate, has quite a few good producers all on one street. Make sure the vendor you chose has official proof of international shipping if you want them sent home to you.
Argan Oil
Argan oil. Argan oil. Argan oil!!!!  It's great for healing what needs healing and glossing up your locks. You're skin will say thank you as well. BUT little know that it's also good for cooking and eating. Full of vitamin E and linoleic acid, it is said to have disinfectant, sun-protective, and anti-inflammatory properties. It's the one stop shop of oils. Harvesting and cultivating argan oil is an age-old tradition across Morocco, so you're getting the very best there is to be gotten anywhere. AMIGHA, the Moroccan Association of Geographical Indication of Argan Oil, makes sure that you're getting the good stuff. His Majesty King Mohammed VI even established a fund to protect and support cultivation of the argan tree, which grows mostly in the southwest of the country. Stock up.
Where to buy it
The great news is there are quit a few collectives around the country with the most reputable clustered around the coastal city of Essaouira, where much of the tree growth is. These produce the oil without preservatives or additives and in varying forms of intensity (for the skin, hair, and yummy cooking). They are almost all run by, or heavily staffed by, women. In Marrakech, you'll want to head to the industrial design quarter, called Sidi Ghanem, just beyond Gueliz. Here, all kinds of creatives and designers have set up their ateliers, including the boutique skin- and hair-care line Les Sens de Marrakech (Route de Safi, Sidi Ghanem; lessensdemarrakech.com). One hundred percent organic and sustainably farmed, argan oil is present in most of its face and body products. Another, just down the road, is L'Arganier de L'Atlas(208 Z.I Quartier Industriel, Sidi Ghanem), with slightly more straightforward packaging and formulations, for all sorts of uses, including the yummy cooking.
Spices
Spices are at the very core of not just Moroccan cuisine, but also Moroccan culture. Ras el hanout – usually a blend of cardamom, nutmeg, star anise, turmeric, pepper, and sometimes ginger – is a staple in tagines, pastillas, and all many of smaller dishes. Ras el hanout is the Allspice of Morocco. The quality of what you find may vary, but the real fun is admiring the beautiful displays of Technicolor powders spilling out of each contrasting burlap bags. Cumin and paprika tend to be especially good in Morocco, as well as various peppers. Again…stock up!
Where to buy them
The prices in the medina will seem high; that's because here you're expected to hew to the time-honored tradition of bargaining. Marrakech's old Place des Epices, the spice square, no longer just sells spices, although some herbalistes remain. These herbalistes, found throughout the souks, will generally have high-quality selections and the knowledge to back up what they're selling for an array of  uses. In Fez, the best known is Univers des Herbes (2 Bis Swikat Dhaban), run by trained pharmacists who will make you a custom blend from dozens of pure powders and tinctures.
In short, don't leave this beautiful stop without searching for the treasures that Morocco has hidden among it's many places around it's many corners.